Introduction
Alpine playground for anyone with an appetite for adventure and the tenacity to challenge themselves. With climbing aids anchored along the carefully planned Via Ferrata routes and guided by professional Moutain Torq trainers, enjoy breathtaking views and the adrenaline rush while traversing the mountain in a safe and controlled environment.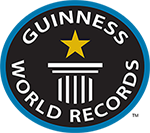 The Current Guinness World Record Holder World's highest Via Ferrata is located on Mount Kinabalu, Sabah, Malaysia. It begins at the height of 3,411 metres with its highest point at 3,776 metres. It was constructed and managed by Mountain Torq.
Low's Peak Circuit
Traverse the world's highest, and Asia's first, Via Ferrata! The Low's Peak Circuit introduces you to an entirely different and immensely beautiful side of the plateau that the standard walking trail will never reveal to you. This 4-5 hour route includes rest stops at scenic locations. Have fun testing your limits with the thread-like tightrope walks and swinging planks.
Highest point at 3,776m a.s.l.
World's highest Via Ferrata at 3776m certified by Guinness World Records

Nepalese bridge or 3-cable wire

Connects to Walk the Torq route

For anyone at least 17 years old with above average fitness levels.
French grading is AD – Fairly Hard.
Walk The Torq
Designed for the beginner in mind, this leisurely 2-3 hour Walk The Torq route is a shorter commitment than that of the Low's Peak Circuit. Peppered with frequent opportunities to take pictures and enjoy the scenery, the Walk The Torq is adrenaline pumping enough to offer a little taste of the Via Ferrata experience without having to expend too much energy.
Highest point at 3,520m a.s.l.
Monkey bridge or 2 cable wire

Rogimut ladder or Vertical ladder

For anyone above 10 years old and at least 1.3m tall
* French grading is PD – Easy.